LABO
(Living Architecture, Build and Objects) is a collective since 2004
(Living Architecture, Bacin Olivier) is an architectural company since 2014 registered in France S16610


LABO : une architecture vivante et sur mesure ou l'expérience spatiale et la lumière rencontre l'usage et le pratique.
Notre agence redéfinit les usages et les typologies habituelles par la recherche architecturale et le design afin d'améliorer le quotidien face aux problématiques contemporaines. Ce travail se fait aussi bien à partir de l'échelle de l'objet que de l'échelle urbaine et architecturale.
Grâce à notre réinterprétation des usages et des espaces, nous allons vers l'inattendu, alliant émotions et une meilleure fonctionnalité tout en prenant en compte les aspect financier et rentabilité des espaces.
Le travail de LABO est multiple. De la conception et détails de mobilier à une installation artistique, de l'architecture au projet urbain, la conception et la réalisation sont toujours influencés par l'art, la matière et l'artisanat mais aussi l'innovation et l'anthropologie. Le travail de LABO existe grâce à la collaboration d'artistes multidisciplinaires et d'architectes. LABO implique le client afin d'obtenir, quelle que soit la mission, un véritable design collaboratif, notre créativité et notre exigence de qualité pour vous accompagner dans la création de votre espace avec un esprit unique à votre projet.

Notre agence, fondée par Olivier Bacin, est née suite à de nombreux voyages et d'expériences professionnelles variées, d'une volonté d'offrir plus que de l'architecture et de proposer une véritable démarche de conception collaborative. Ayant fait nos premiers pas dans de grandes agences d'architecture, dont Odile Decq à Paris ou encore Asymptote, studio Gaia et 212 design à New York et aussi à la direction de l'architecture pour Ora Ito. Nous avons pu développer un savoir faire pointu à des échelles variées. En références notamment, en design de mobilier et d'intérieur (restaurant de L'Opéra Garnier), scénographie (MaMo, Elephant Paname), conception et suivi de chantier de projets architecturaux et urbains (10 Grenelle, Institut Paul Bocuse), espaces commerciaux et retail (Quicksilver, Lancaster), projets d'hospitalité (Hôtel W Bogota, Yas Hôtel U.A.E., hotel Yooma), projets de logements (Pentania Lille, maison individuelle à Théoules), projets de bureaux (Air2, 4 ventsgroup).

Nous sommes disponibles pour travailler à vos côtés, réaliser vos rêves et construire avec vous le monde de demain.

Ils nous recommandent:

Pierre Beckerich
Président D.G. d'Euragone (hôtel Yooma)
Olivier sait s'emparer d'un projet pour le mener a bien en l'accompagnant par son engagement et sa capacité de projection créatrice.

Antoine Jeandet
Vice President de 4ventsgroup / 4people
"Olivier et ses équipes ont réalisé les travaux d'aménagements et de design de notre nouveau siège social des Champs Elysées. De multiples challenges ont été relevés avec succès: techniques, artistiques, délais. Le résultat dépasse nos attentes, c'est un vrai succès. Bravo pour votre professionnalisme et votre bonne humeur"

Hervé Fleury
Directeur de l'Institut Paul Bocuse
"Olivier Bacin à conçu un projet contemporain avec une identité architecturale forte. Il a su respecter et revaloriser le patrimoine en adéquation avec les valeurs de l'Institut Paul Bocuse." extrait

Camille Domange
Chef du départements des politiques numérique du Ministère de la culture et de la communication
"Olivier a travaillé pour le ministère de la Culture et de la Communication dans le cadre d'une manifestation inédite destinée à soutenir la politique numérique et d'innovation culturelle (Silicon Valois). Il a réalisé une installation artistique - Web (r)evolution - remarquée dont l'originalité du travail a été saluée par de nombreux professionnels du secteur. Olivier est un architecte rigoureux et talentueux sur qui il faut compter dans les années à venir. Cela a été un réel plaisir de pouvoir collaborer avec un professionnel aussi dynamique et réactif."


--
LABO redefine the usual uses and typologies through architectural research and design in order to improve every day life facing contemporary issues such as density, economic and sustainability. Through re-interpreting uses and spaces, we create the unexpected, a better functionnality with a glimpse of emotion and even poetry.
We like to shake things upside down, blur boundaries, go around conventions, and push limits !
Labo's work is relatively wide and starts from designing the details of a desk light, to art installation, to architecture or to urban master plan driven by art, innovation and anthropology. Labo's work exists thanks to a collaboration of multidisciplinary persons, artists and architects.That is why Labo is always looking for new teammates ready to challenge the reality.
Labo strongly believes in design using the latest technologies and materials and in a design made by a team work and collaborations including the client.
We will be happy to work with you to shape and build together the world of tomorrow.








Labo is driven by.

Olivier BACIN is a french registered Architect (n°080784), founder of LABO collective and principal of LABO architectural company. Prior founding the company he had an international experience in New York, Paris and Shanghaï as project Architect and Designer on innovative architectural projects at multiple scales.
He was awarded for a master planning concept and exposed in the pavilion francophone at Shanghaï Universal Expo 2010 and invited in 2011 for lecturing at ENSAG university in France. He has been collaborating with many famous architectural offices such as Odile Decq and Benoit Cornette in Paris where he was in charge of several big scales projects. While working at ASYMPTOTE architecture in New York he was working on numerous project including the award wining YAS island hotel.

> O. Bacin on LinkedIn

TEAM

Nicolas SALMERON is a french designer collaborator at Labo with a sharp eye on details. He has been a lead designer in internationally renown practices. While directing the design department at Odile Decq and Benoit Cornette he designed several projects including the furniture of the Opera, currently edited by Poltrona Frau, he was also directing projects with Alessi, Iguzzini and Boffi. He has also an expertise on architectural interiors and staging with projects such as the Museum of Quatar while working with Jean NOUVEL

Jérome LECLERC is a french architect collaborator at Labo. He developped his approach of architecture, urbanism by working with famous architects such as Edouard François, Odile Decq,Elizabeth and Christian de Portzamparc and more recently, Renzo Piano B.W. .
His experience is in every scale of the project : from architecture and scenography of the Museum of romanity (Nimes) to Metropole's Hotel (Beaulieu) and Island Folien's urban planning (Valenciennes).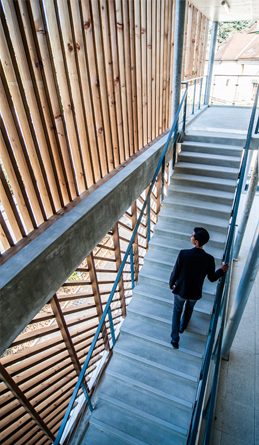 Picture from our project for the Institut Paul Bocuse



Selected Publications and Exhibitions:


-Millessimo workshop published in Italy under the direction of Professor Gilles Marty. 2007
-Hyperlink student projects published under the direction of Professor Gilles Marty. 2007
- Exhibitions Hyperlink at the maison du Rhone and ENSA Grenoble and ENPC Paris. April to December 2008 (More+)
- Fetes des lumieres. Competition. Exhibited project at the musee des beaux arts de Lyon. 2006
-Cours de la Liberation Olivier as a teacher assistant was managing students project and scenography for the exhibition at the Plateforme, architecture and art center, under the direction of Professor Hania Prokop. 2009
-Prototyping the future: three houses for the subconscious Olivier was involve in Asymptote exhibition project and scenography for the Biennale d'architecture de Venezia 2008 under the direction of Hani Rashid and Lise Anne Couture. (More+ and more at Asymptote)
-Perspectives Olivier was involve in the exhibition at Cultural center Louis Vuitton Paris, Champs Elysées under the direction of Odile Decq ( More at Louis Vuitton Center and on the videos: Exhibition and Making of)
-Shanghai master plan competition, co designed with Ran She, exhibited in the Pavillon Francophone at the Shanghai World Expo 2010.
- Crystal clouds co designed with Martial Marquet published in August 2011 in the Best of Evolo Skyscrapers and Innovative architectural designs. (Order here +) also published in 2012 ineVolo Skyscrapers Collector's Edition Book
- Web(R)évolution: Installation par Olivier Bacin
et exposition de sculptures impressions 3d par Olivier Bacin et Jérome Leclerc



SUIVEZ NOUS ! FOLLOW US !
LABO SUR LINKEDIN !
TWITTER LABO_Arch
LABO sur INSTAGRAM



Contact

Olivier BACIN / LABO

hello( at )labo-architecture.com

Labo headquarter:
NOUVELLE ADRESSE
151 rue Oberkampf G3
75011 Paris/ France

Afficher LABO (Living Architecture Bacin Olivier) sur une carte plus grande

other offices:

475 Kent Avenue,
Brooklyn NY 11249 / USA

Afficher LABO (Living Architecture Bacin Olivier) 475 Kent Ave NY sur une carte plus grande




LABO
Living Architecture Bacin Olivier
SARL d'architecture 5000€ de capital
inscrit à l'Ordre des Architectes d'Ile de France

Copyrights
All materials are protected please inquire before copying or publishing any elements, pictures, etc. , ©Olivier Bacin / ©Nicolas Salmeron / ©Jérome Leclerc / ©Labo 2013